Software Integration with topsOrtho™
Announcing Gaidge's Software Integration with topsOrtho™
January 2, 2020
Leveraging the new functionality of the latest topsOrtho and Gaidge 2.0 software releases, the companies have announced the full integration of the Gaidge™ analytics software into tops™ practice management software via its Platform One™ portal.
Platform One Practice Performance Analytics directly link to Gaidge offering topsOrtho users seamless access to their business KPIs. With over 80 available metrics and 35 reports, Gaidge is an essential management tool that provides business intelligence dashboards, benchmarking and performance comparisons that are vital for every orthodontic practice.
"We are thrilled to announce our partnership and have been looking forward to bringing the power of data analytics and resulting improved business management to the topsOrtho community of users." said Ryan Moynihan, CEO of Gaidge.
Marking the fifth practice management software integration for the company, the two firms have collaborated to construct a user-friendly environment for topsOrtho clients, which is intended to save time and simplify processing. Created and customized for orthodontists, Gaidge brings clarity and focus to help orthodontists identify opportunities to better manage and grow their businesses. Practice data is automatically pulled and in a secure daily upload returning real time statistics, visual reports, comparisons and trends on practice performance. For topsOrtho clients, the information is accessed directly within the topsOrtho software application for added convenience using their Single Sign-on verification.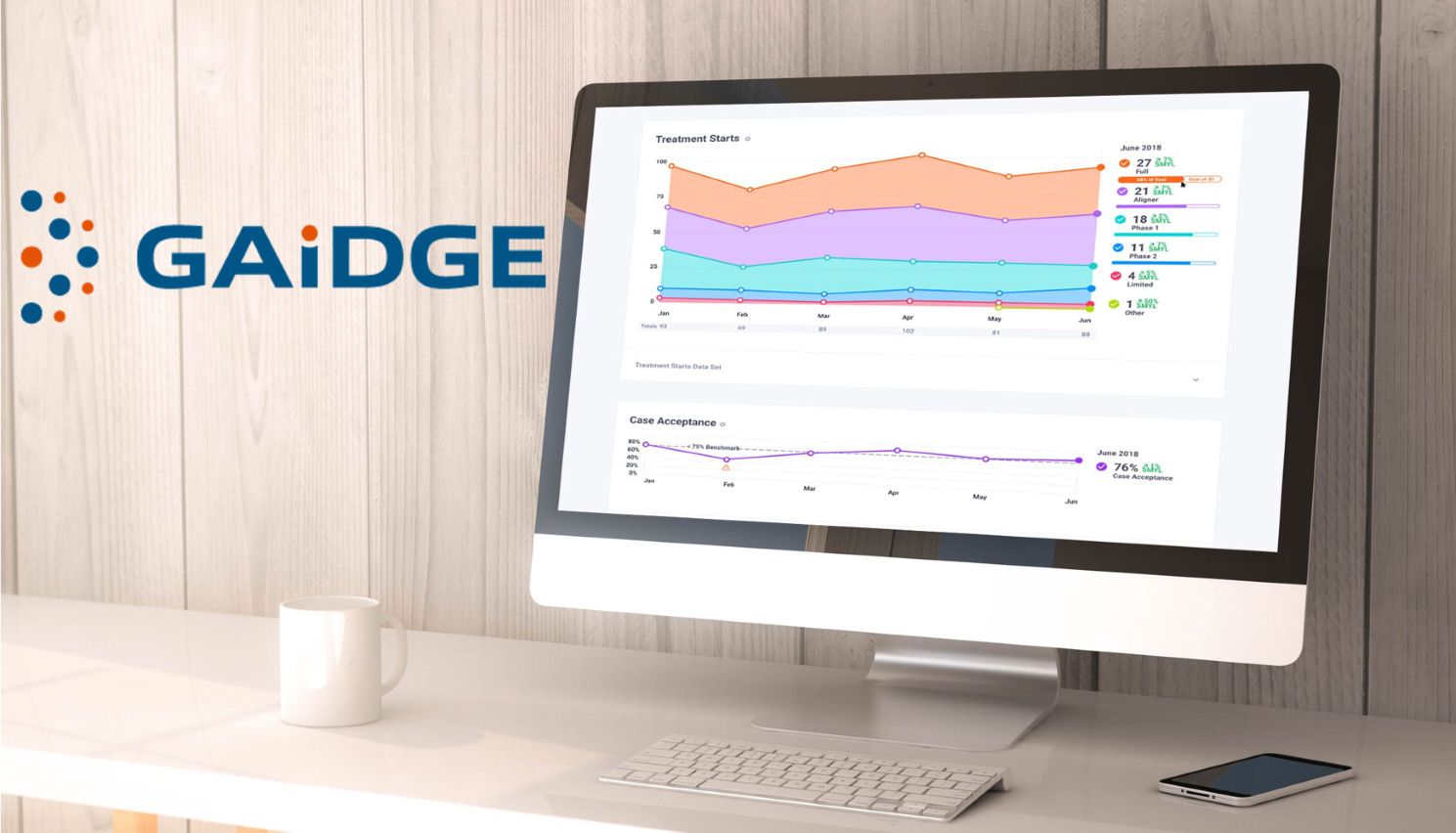 Powering Your Practice with Data Analytics
The powerful features of the Gaidge analytics software work seamlessly to provide unprecedented visibility into your practice's essential metrics and clear insights into your financial and operational performance.
Quickly identify opportunities to increase profitability and reduce waste.

No additional data entry, it's built-in to the topsOrtho practice management system.

Real time analytics upload automatically every day saving time and increasing efficiency.

Extend and elevate your operations with data visualization dashboards and industry benchmarks.

Easily see your success and celebrate with your team using the Leaderboard and Goal tracking.
Grow Your Practice with Meaningful Goals and Industry Benchmarks
Set objectives for your practice and track your progress with custom goals setting and tracking via your dashboard, individual charts and your monthly and yearly summaries. Gaidge users are part of a community representing the largest, most accurate database of information in our industry with exclusive access to anonymous aggregated comparisons to others like you. Profession-wide benchmarks and regional comparisons from 1500+ locations in 11 regions. Only with topsOrtho do you have a seamless workflow using Single Sign-on via Platform One.
About Gaidge
Gaidge is a data solutions company committed to providing actionable business intelligence for our clients. Our cloud-based analytics software is an essential business management tool for practice owners that provides business intelligence dashboards, benchmarking, and performance comparisons. Gaidge provides 80+ metrics daily on the health and progress of the practice using meaningful visuals and summaries that increase business acumen and enhance productivity and satisfaction for doctors and staff. Full integration with the leading practice management systems ensures accuracy and streamlines office functions and operations. Gaidge users are part of a secure community where they can review comparisons of aggregated data and leverage comprehensive performance benchmarks. Learn more at www.gaidge.com.
Call us 800-287-3396 or email info@gaidge.com.
Back to Blog Home