The Top 5 Considerations for using Virtual Visit Technology
By: Jessica Bryson, Office Manager Black Orthodontics, Consultant impact360 Co-author: Suzanne Wilson, CMO Gaidge
While convenience, transparency, and connection are still what our patients desire, the patient experience as we know it has changed. Many may have dabbled in virtual consultations pre-COVID-19; however, holding out on this booming technology is no longer an option if you want to thrive moving forward. As an industry, we have reopened with new protocols and restrictions that will drastically change the way we do business for the foreseeable future. Offices who were accustomed to seeing upwards of 90 patients in-office each daily are now rescheduling at half the capacity to allow for social distancing. By implementing virtual technology, you will allow yourself to work smarter, not harder. Not only are virtual visits more efficient for your practice, but they also offer a layer of immeasurable customer service to your patients, especially during these uncertain times. The use of virtual visits not only meets the needs of your patient families by allowing them to be seen from the comfort and safety of their homes but you are increasing capacity in your office as well as showing your prospects that you are on the cutting edge of available technology. The global pandemic has provided a springboard for technology adoption but also visibility into how businesses will adapt and make positive strides for the long-term and greater good. Committing to participate in virtual visits is the first step. What comes next requires strategic planning, team training, implementation and a method to measure how you're doing.
Top 5 Virtual Visits Considerations:
Determine the types of appointments you can do virtually. While a great way to connect with new patients, virtual visits are NOT just for new patients! Make a list of what appointments you are willing to connect with virtually, such as progress review for aligners, retainer checks, evaluate growth and tooth eruption on young observation patients, and assess the need for additional in-office visits due to breakage.

Determine a lead person to be in charge. Designate someone as your Virtual Visit Coordinator. In most cases, this will be your treatment coordinator; however, depending on the types of appointments you are connecting with virtually, it may be a dual role shared with a clinically trained team member. Organization is critical in order to continue high quality care throughout the virtual patient journey, and it is essential to have a lead person designated as well as their partner or back-up determined before beginning.

Explore and consider the different virtual visit platforms that will best meet the needs of your team and patients. FaceTime and Zoom are simple and free but lack the sophistication of other tools that can enhance and improve the experience on both sides. Explore Smilemate, SmileSnap, OrthoScreening or even Doxy.me which provide video conferencing but also professional interactions and the ability to upload and save photos, in certain cases such as Smilemate, that streamline the entire treatment process from the beginning.

Lights, camera, action! When you connect through video conferencing, be prepared with a nice physical space, presentable appearance and have quality Wi-Fi wherever you conduct your virtual visits. While your patient's connection may be spotty, you must be at full bars and polished. This includes having a planned talk track of how you will talk through the virtual consultation with a new patient, how will you get a commitment for treatment and how and when fees will be presented. Polish is equally important when you communicate via text and email. Proper grammar and punctuation aid in maintaining professional interactions. You want all communication to be polished in order to provide a top-notch experience. Whatever you have determined for your virtual patient journey, have it planned in advance so that you provide excellent virtual care.

How are you going to track and measure the outcome and efficiency of your virtual efforts? In the famous words of business leader Peter Drucker and echoed by impact360 and Gaidge founder, Mary Beth Kirkpatrick, "What gets measured, gets improved.". Make sure you have appropriate tracking codes and scheduling protocols to track your progress. This begins with #1 above and ensuring your new patient coordinator and entire team is trained on the codes used in your practice management software. From there, if you are a Gaidge client you will have daily, automated visibility into how virtual visits are impacting your practice from the new patient consultation through all the types of visits that you select to conduct virtually. Once you begin tracking your virtual visits you can also assess how this impacting your ability to gain efficiencies in your practice and ultimately elevate your business to thenext level. To learn more about Gaidge visit our website www.gaidge.com or call us 800.287.3396.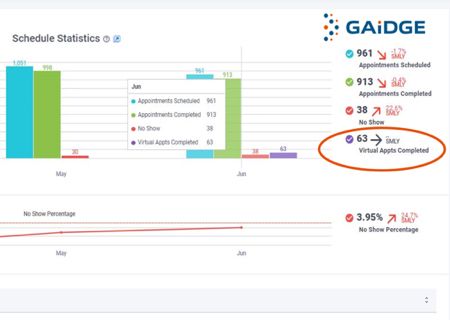 Impact360 understands the importance of progressing quickly in the telehealth communication space. With our combined expertise with the new patient experience, technology systems and practice efficiency, our team is here to help get your practice on the path to success. Regardless of your skill level, we want to help you integrate this essential technology into your practice. Contact us for a complimentary virtual assessment via email info@impact360.com, call 800-287-3396 or visit our website www.gaidge.com/impact360consulting.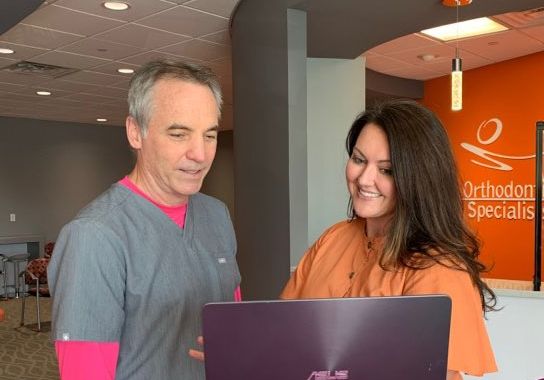 Back to Blog Home