Executive Membership: Overhead Expense Tracker™ & Practice Projections™

Increase the visibility of the metrics that drive your practice. Gaidge's Executive Membership with Overhead Expense Tracker™ and Practice Projections™ supercharge your Gaidge insights with dashboards for revenue forecasting software, practice projections, and overhead.
Visualizing Your Overhead and Projections Data Helps Manage Your Bottom Line
More than ever, practice owners have to think about their operations like C-suite executives. Data analysis, business intelligence, and overall performance need to inform your financial outlook. Planning long-term gains requires a 360-degree view of your operations, while being able to see and understand performance at any time.
Decisions need to be backed by data, not your intuition or gut. That's why we partnered with three well-known accounting firms to engineer our Executive Membership program. This program uses the Overhead Expense Tracker™ and Practice Projections™ modules. The result? Easy to use tools that let Doctors and Practice Managers track their overhead and reliably forecast growth in real-time.
See why so many of the nation's leading orthodontist practices rely on Gaidge. Schedule a 30-minute demo of the Executive Membership today.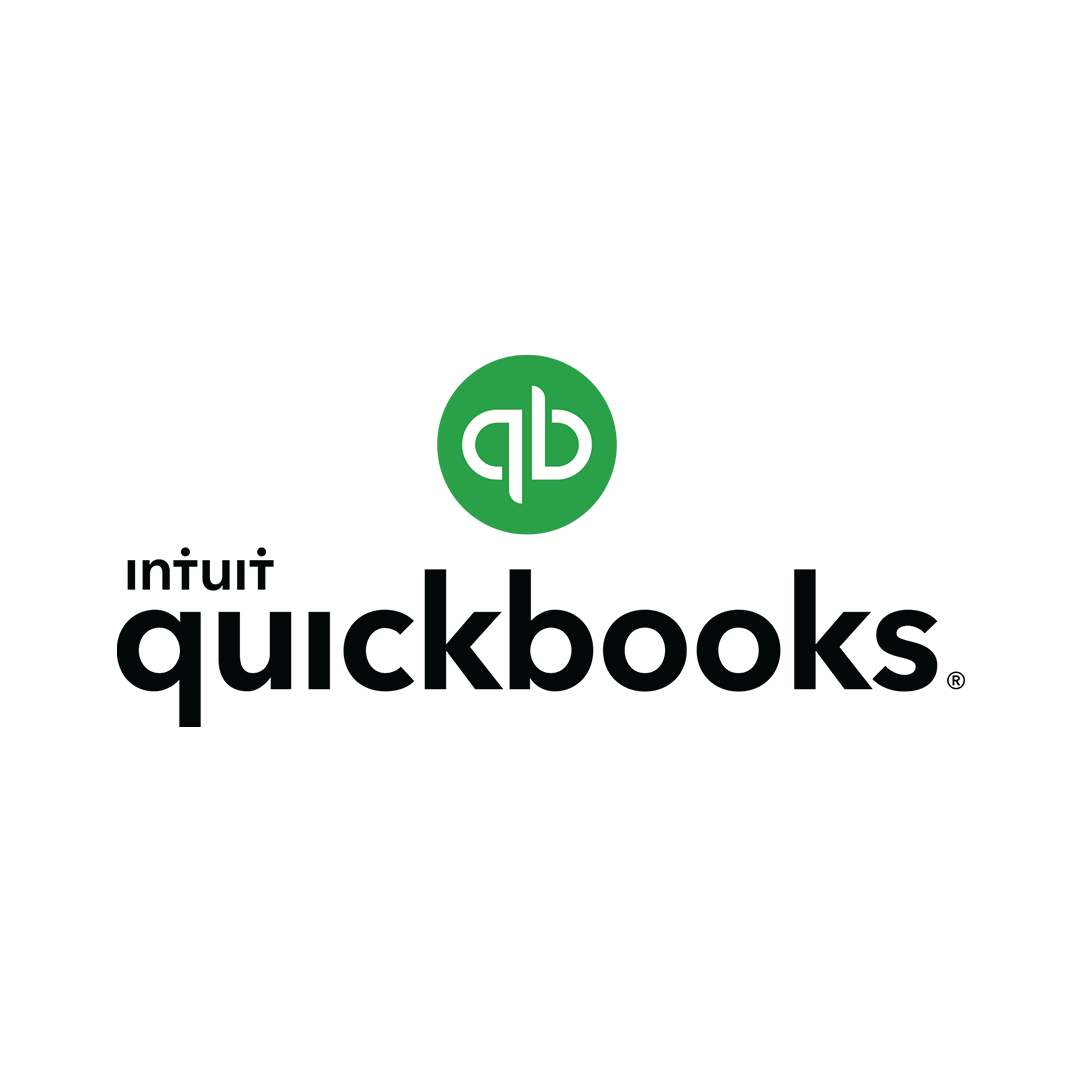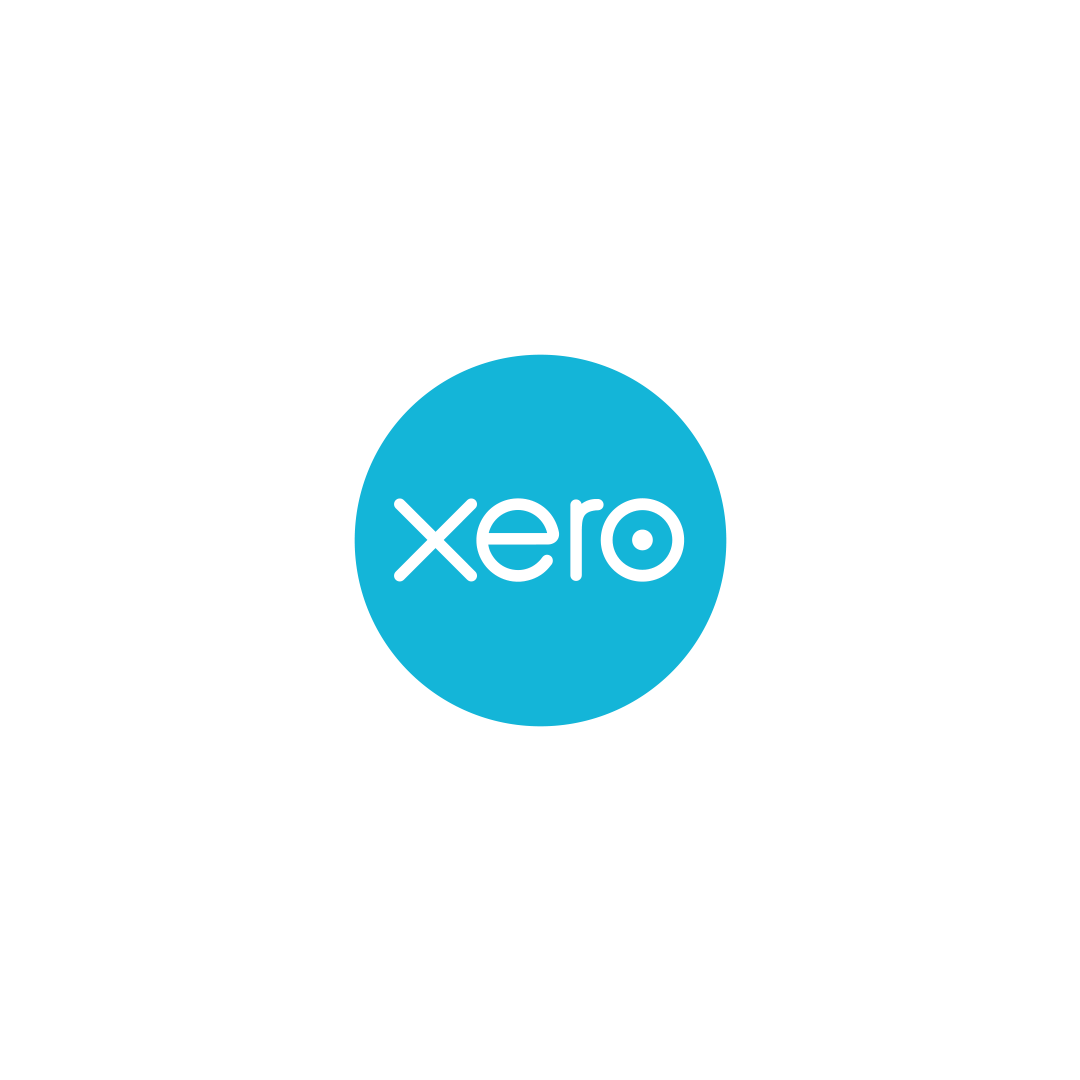 Get Insight into Your Financial Performance with The Overhead Expense Tracker

The Overhead Expense Tracker integrates with Quickbooks™ and Xero™ to display practice data in user-friendly visualizations. The module automatically updates nightly, giving you the best view of your current finances. Users also have the enhanced capability to break down data by customizable categories like staff expense, clinical expense, equipment facility, marketing, compensation expenses, and more!
We created the Overhead Expense Tracker with Doctors and Practice Managers in mind, equipping them with the tools to control their budgets and meet crucial benchmarks. With the Overhead Expense Tracker, you can implement a completely collaborative process that provides accurate, up-to-the-minute reports.


There are three unique features of the Overhead Expense Tracker: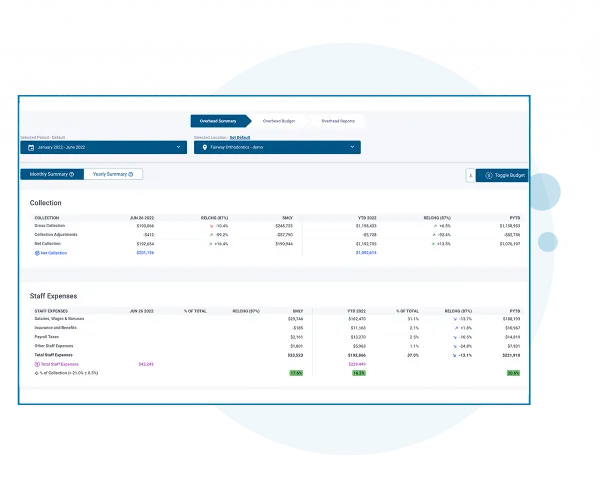 Overhead Summary
This report includes a detailed list of expenses by category with a customizable date range. The clean display shows you color-coded arrow indicators that let you measure your current performance over previous periods.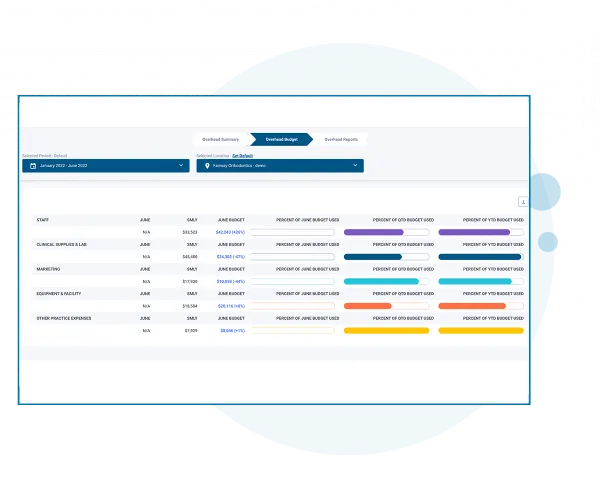 Overhead Budget
Plan spending and track your progress at the same time. Overhead Budget lets you compare your budget by year or month and visualize spending against your budget in progress bars. It gives you a quick overview of trends in your spending and provides signals if an area needs more attention.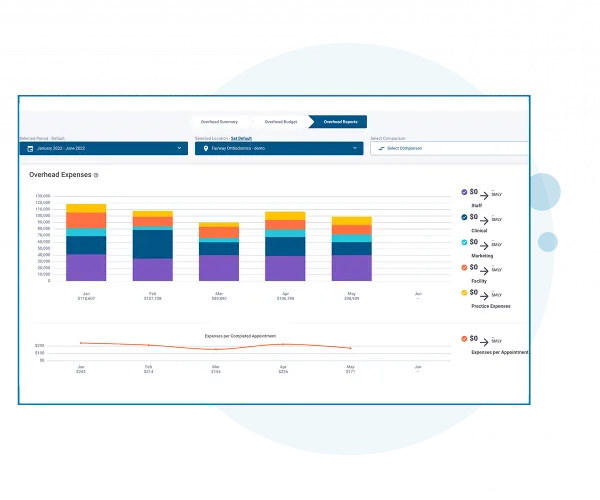 Overhead Reports
Interactive charts and comparison tools let you quickly see your data trends. You can instantly view reports for expense types including staff, clinic, equipment, marketing, administrative and compensation.
Visualize the Bigger Picture with Practice Projections™
Practice Projections™ lets you forecast finances at any point in the year. You don't need to wait for yearly projections to determine your go-forward plan. Start planning your goals — for clinical days, net production, or starts — and choose the best strategy for hitting those benchmarks.
With Practice Projections™, you can enter an increase — like add 5% to Net Production — and the system calculates how many Starts, Exams, and New Patients you would need to achieve that goal based on your practice's performance from last year.
You can modify various items to project different outcomes. You might start by increasing the number of Starts for next year, which will, in turn, increase Net Production, Net Collection, New Patients Added, and Total Exams.
Here are some of this module's key features: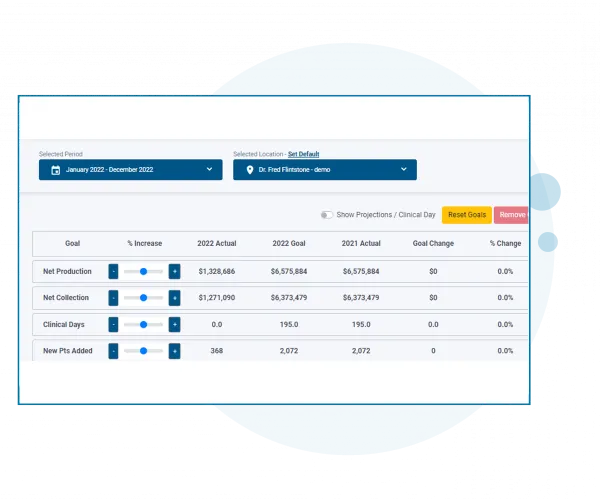 Goals
Instantly visualize benchmarks like Total Exams and New Patients Added based on last year's Case Acceptance and New Patient to Exam percentages. You can also see breakdowns for how metrics like Net Production, Net Collection, New Patients Added, and Total Exams affect your Starts.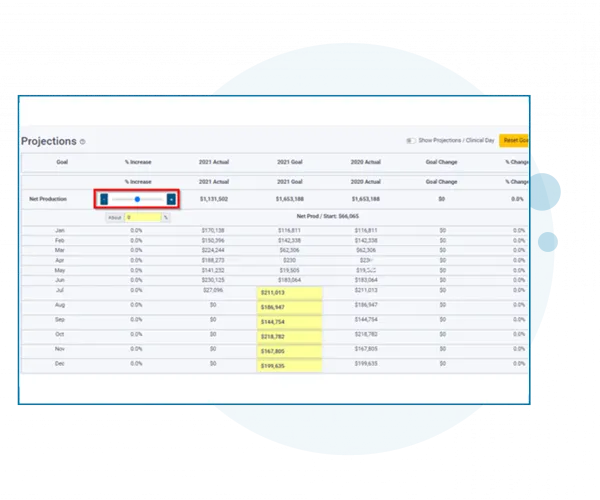 See the Details

With Practice Projections™, you can click on any goal name, which will expand to show the monthly details. Every field in this view can be edited individually or collectively using the slider or by entering a percentage. You can even edit these figures. For example, if you took off two weeks last April but aren't planning to this year, you can adjust your goal for April.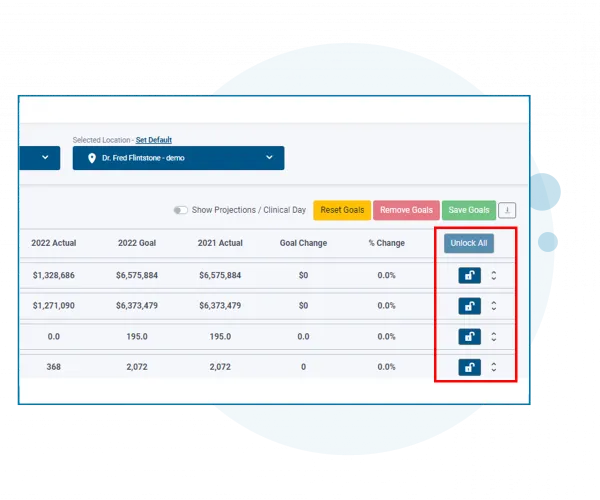 Locks
Locking different goals allows you to explore different scenarios. For example, you might lock Net Production at 5%, then increase your case acceptance goal, decreasing the number of new patients and exams needed.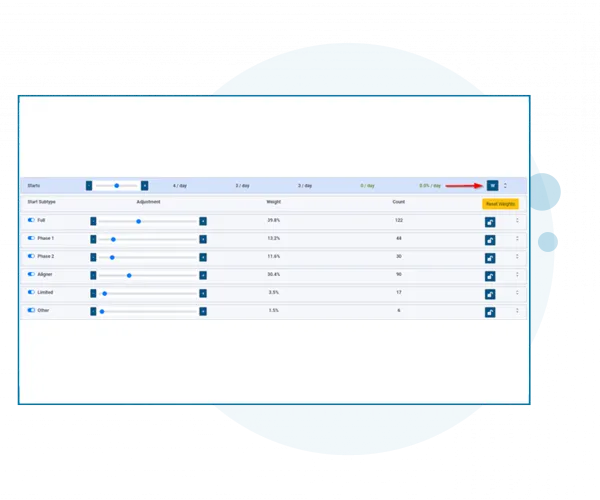 Adjust the Mix of Treatment Types

The Starts section includes the total plus the individual types of starts: Full, Phase 1, Phase 2, Aligner, Limited and Other. Additionally, many practices do not set goals for limited or other starts.
Use the Weights function to increase or decrease the percentage of any treatment type. For example, you may not want to include limited and other Starts in your goals, or you may want to increase aligner treatment while decreasing braces.

Show Projections per Clinical Day
If you are entering your monthly clinical days, you can also view your daily projections. Adjusting this function allows you to see your daily goals according to last year's data.

Simplify Overhead Expense Tracking and Practice Projections with Gaidge's Executive Membership

Many tools promise quick projections, but in reality, they take hours to produce forecasts. Only Gaidge gives you the ability to project with unprecedented visibility into your financial performance. Our cloud-based data analytics solution lets you keep track of your financial metrics that are essential for running a profitable practice.
Since 2010, Gaidge has used business insights to grow orthodontic practices. Learn more about how our dashboards support data-driven decisions during a 30-minute demo with one of our specialists!