Revenue and Profitability Tracking For Orthodontists
Orthodontic practice revenue tracking is the lifeblood of any orthodontic practice. Knowing your growth lets you know when you can undertake new expenses to expand your practice. Start making better financial and operational decisions with Gaidge.

Understanding the Financial Status of Your Orthodontic Practice is Imperative to Growth
As more and more orthodontic practices confront rising costs and declining insurance reimbursements, it's more important than ever for Finance Coordinators and Practice Managers to have a standardized process for orthodontic practice revenue tracking.
At a high level, many practices struggle to understand their financial operations. While they may keep track of some data, it's usually manually collected and kept in hard-to-read spreadsheets. These internal spreadsheets don't provide a comprehensive overview of your practice. While they account for some metrics, they cannot contextualize trends and data for granular insight into each phase of the revenue cycle.
Read More

Murky reporting makes it impossible to see where your finances are at any given time. Outdated orthodontic practice revenue tracking puts the difficult job of interpreting data back on Finance Coordinators and Practice Managers without providing any meaningful, precise, or actionable insights.

Gaidge Analytics' Revenue and Profitability reports automatically track your finances, giving you unprecedented ability to increase collections and control your expenses. With Gaidge, you can simultaneously operate efficiently, stay within budget, and improve your profit margins. Our 35+ dashboards leverage over 80 practice metrics to give you a comprehensive overview of your orthodontic practice revenue. You get total transparency into your cash flow, freeing you and your team from interpreting and second-guessing data points.
What Revenue Metrics Can You Track With Gaidge?
Gaidge cuts through the noise and simplifies revenue and profitability tracking for orthodontists. Our dashboards provide clear answers to common questions like "are there signs of financial success" or "are incoming patients matching our expenses?"
Finance Coordinators and Practice Managers depend on Gaidge to understand their team's performance and develop strategies for creating and exceeding their goals.
Gaidge's completely customizable revenue metrics let you track: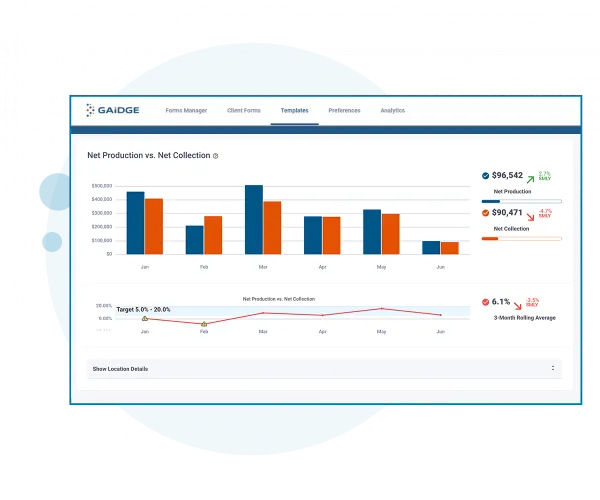 Productions + Collections
Net Production vs. Net Collection

Average Contract Amount

Payment Arrangements

Discounts + Write-Offs

Production per Doctor / Staff Hour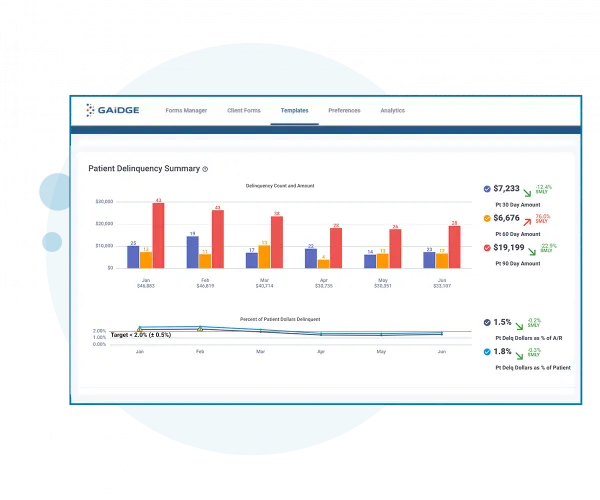 A/R & Delinquency
Accounts Receivable

Patient Delinquency Summary

Insurance Delinquency Summary

You can set up your dashboard to integrate with your OrthoFi ®, Quickbooks®, or Xero® software. Gaidge's reporting dashboards let you break down all four quarters, annual totals, and yearly budget comparisons.

Modernize Your Practice with Orthodontic Revenue and Profitability Tracking Software
Having a clear understanding of your practice lets you strategize and forecast more growth opportunities. Gaidge's cloud-based orthodontic practice profitability monitoring uses 35+ key performance dashboards with 80+ metrics for complete practice visibility.
Learn why the nation's leading practices depend on Gaidge to power their operations. Schedule a free practice assessment with one of our specialists now.