How Small Businesses Can Unlock Big Data Insights
Imagine a vast warehouse of data that contains the secrets to running a better business… but you have no way inside. Every practice that's capturing data through project management software is sitting on warehouse levels of operational data. But that data is inaccessible and unintelligible when it comes to gaining actionable insights. Synthesizing, analyzing, and displaying trends in the data and finding insights that result in meaningful action are time-consuming challenges that have become an essential part of business and spawned the new industry of data science. Warehouses collect and house information, data science makes it usable, something that traditional PMS systems are not designed or programmed to achieve. This is the inherent problem with Big Data: For all the good that large quantities of data can bring to a practice, none of it is usable without a way to clearly see the big picture.
So how does a growing practice see Big Data? Where do you find the trends that lead to insights that lead to better decision-making? It starts with advanced analytics. Businesses need analytical power to sort through their data "warehouses." Often, this analysis falls on one person in the practice who must deal with the time-consuming task of tracking various practice KPIs, organizing data through spreadsheets, pulling lengthy reports and attempting to gain visibility into the next action a practice should take.

Why Big Data is Difficult for Practices to Manage
This manual approach toward data analysis isn't reliable or efficient, and it's certainly not the best use of resources for a lean or busy practice. But using innovative analytical tools that are built to monitor, measure, and visualize practice performance data, it's possible for every practice to leverage Big Data that will drive better business decisions.

While there are a number of ways to gather and analyze data, many analytics tools only supply you with the what of data, but don't supply you with the why. Practice management software is a good example of this. You collect a lot of practice performance data using these tools, but none of the dots are connected for you. You end up with massive amounts of Big Data and no way to see what it means, what questions need to be answered or what to do next.

With the right visualizations and the right analysis, you can clearly see the trends in data that tell a story and lead to action. For one doctor, Gaidge highlighted an increased trend in retention visits that were drawing on valuable chair/staff/doctor time. Thanks to the trends and analysis performed by Gaidge, the office was able to easily see the issue and start working on solutions. Ultimately this led the doctor to use data to make an investment in equipment for in-house retainers which not only ended up cutting time but cutting costs formerly paid to a third party for retainers. This insight from Gaidge not only improved the quality and productivity of after service, it reduced wasted time and disruptions to the schedule which not only effect the bottom line but affect the culture and happiness of everyone in the office. We'll show you how different tools can help small practices demystify Big Data, unlock smarter insights, and take action to run a better business.

Visual Dashboards Accelerate Your Reaction Time to Opportunities and Setbacks
It's not necessarily the size of a dataset that matters most (although it certainly helps when identifying large-scale trends) but rather how fast you can react to it. By drastically reducing the amount of time you spend looking at data and figuring out what to do, you can use your expertise to act quicker and take advantage of opportunities or reverse setbacks as soon as they appear. And the best way to accelerate data analysis is through visual dashboards.(2)

Data analysis tools, such as Gaidge, provide users with intuitive visual representations of their practice's performance. By seeing your practice performance data through graphs and charts, you waste less time trying to digest and understand data and more time on responding to important data findings. Furthermore, visuals can steer you away from bad assumptions or incorrect "gut feelings" about your data.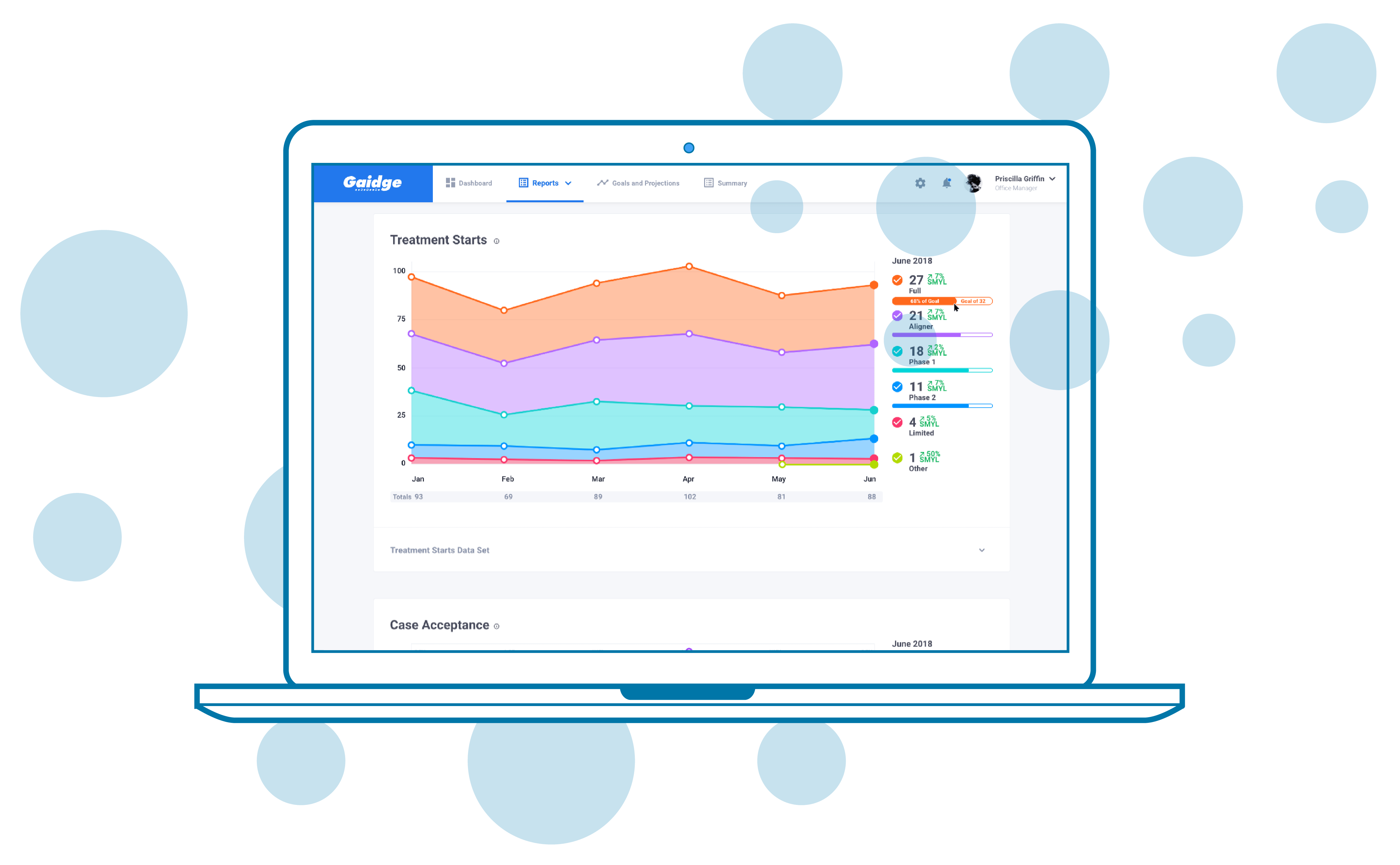 Benchmarks and Comparison Data Help You Set Priorities and Allocate Resources
Your practice does not exist in a vacuum. Even if your manual analysis tools are tracking the right operational and financial metrics, there is no guarantee that you are performing on the same level as peers and competitors. By having access to and analyzing Big Data, you can push you past any assumptions or faulty processes that keep your practice from operating on the same level as the industry at large. This will give you a more realistic indication of your practice's health.
While you may use simple analytics tools to analyze essential drivers in your practice, Gaidge is the only tool available in orthodontics that can live up to the Big Data namesake by providing you with vast datasets of industry benchmarks and regional data to which to compare your practice's performance to others like you. Being part of the Gaidge community means you get to keep your personal data private and protected but sophisticated programming aggregates the analysis portion of the information, anonymizes it and compiles it on a regional basis for the collective benefit of all subscribers. With a more comprehensive view of where your practice should be performing, you can better allocate your internal resources to improve problem areas. For practices that face ups and downs in production, struggle with setting the right goals and priorities, this kind of Big Data is invaluable.

Social Media Data Drives Smarter Marketing and Better Operations
Social media is a marketing equalizer for every orthodontic practice, big and small. Though it could be used simply as just another marketing channel, social media is also a fountain of valuable Big Data that is easy for any practice to access and act upon.

One way to unlock insights from social media is by tracking online mentions of your business. Online tools like Mention.com - which starts at $25/month - can give you a real-time feed of every post that mentions your business (or your competitors or peers), allowing you to keep a pulse on what patients cared about the most, and thereby guiding you to smarter marketing strategies and improved patient experiences. This sort of sentiment analysis when paired with business KPIs give you the what and the why to initiate effective, profitable change in your processes.(1)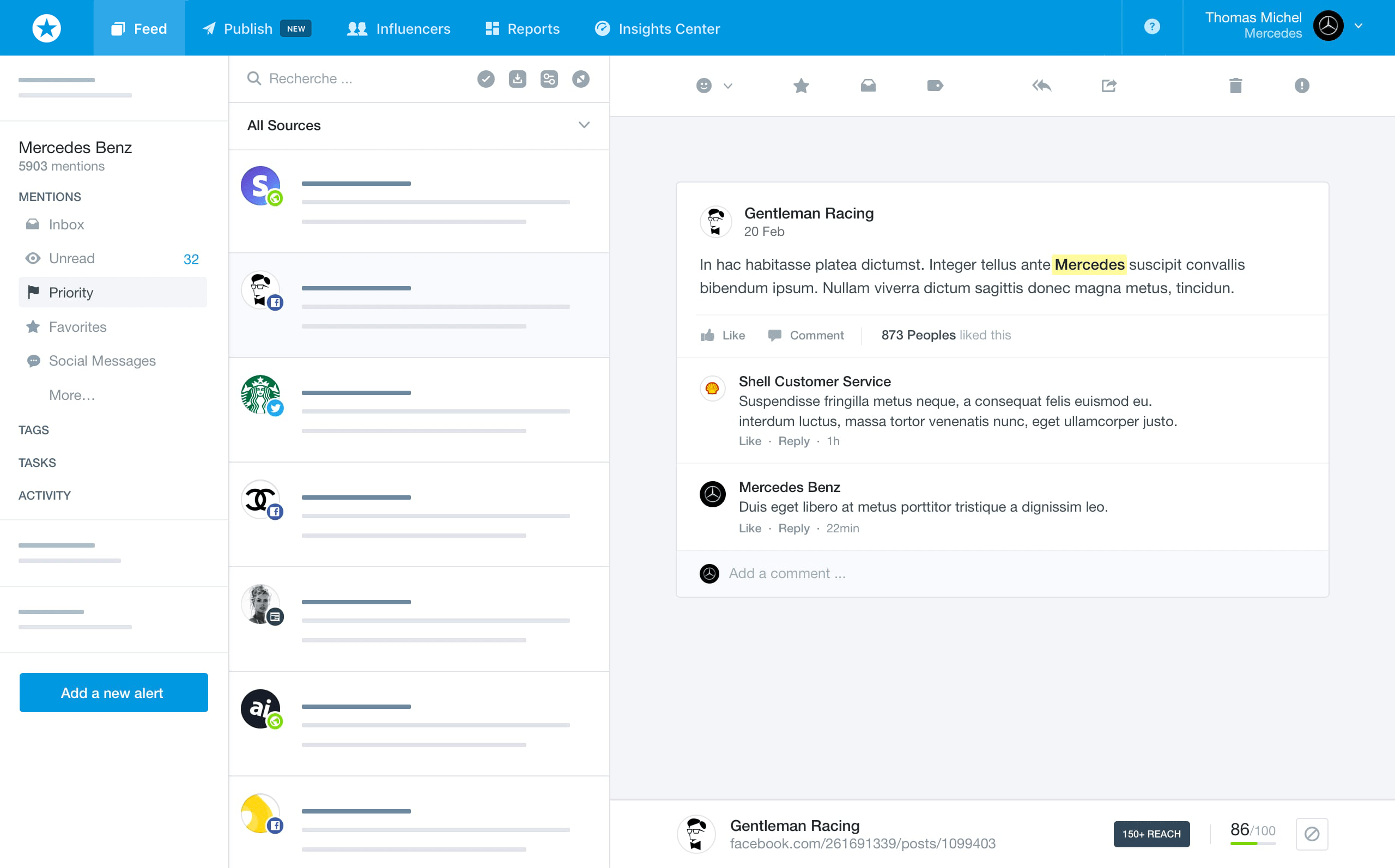 For instance, if you found that patients' online mentions of your practice and your peers focused primarily on the level of education the practice staff provided, you would know to focus more of your marketing on how terrific your patient education is. Or you might see that your competitors' patients responded very positively to an aspect of the practice that you had not yet invested time or effort. These findings are easy to come by with the right tools, and they can radically change how a practice markets itself or how it operates.
Tracking Early Patient Interactions Can Help You Understand Your Patients Better
It may seem challenging to determine where your operations can improve most. But if your analytics tools are tracking metrics such as phone calls, new patients, case acceptance, and treatment starts - and presenting those metrics in a clear, digestible manner - you can better understand areas of your business that need attention and make the necessary messaging changes to meet patient expectations.
Do patients tend to back out when presented with pricing information? Or do they drop off at the initial phone call? Does your case acceptance match up with industry standards, or is your practice lagging behind? These are some of the questions the data can spark. By examining the data that shows where your potential patients and your practice are misaligned, you can properly reassess aspects of your operations to better match patient expectations.
Conclusion
No matter the size of your practice, you can harness the power of Big Data analysis using a variety of tools and solutions. Whether you're focused on operational data, social media sentiment analysis, or industry benchmarks, the right data will augment your approach and help you understand why your practice performs like it does, support you in your efforts to implement the highest priority changes, measure your results and follow a path of continuous improvement.

Triangulating the factors that contribute most to your business' success, starts with better data analytics. That's where Gaidge can help. By tracking, measuring, and visually representing over 80 KPIs tied to the financial and operational health of orthodontic practices, Gaidge gives your practice the capability to see large-scale, Big Data trends, glean valuable insights, and act on them swiftly. Want to see how Gaidge can help your business succeed? Contact us today.

---
Sources:
(1) https://insight.kellogg.northwestern.edu/article/what-might-be-missing-from-your-analytics-strategy

(2)https://blogs.cisco.com/socialmedia/visualizing-data-four-steps-to-your-single-source-of-truth?sf189171654=1
Back to Blog Home